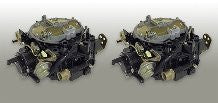 TWIN 4 BARREL ROCHESTER QUADRAJET WITH ELEC CHOKE MERC 305
MY ROCHESTER QJET WITH ELEC CHOKE WILL REPLACE THE FOLLOWING ORIGINAL MERC APPLICATION.
MY CARBS ARE REAL ROCHESTERS AND WE DO NOT USE CHINEESE CLONES.
YOU WILL GET 50.00 PER EACH CARB WHEN YOU SEND THE OLD ONES BACK
BUY DIRECT AND SAVE !!!!
IF YOU DONT FIND YOUR OEM NUMBER OR APPLICATION EMAIL US AND WE WILL HELP YOU !     
THIS ARE REMANUFACTURED AFTERMARKET CARBURETORS AND ARE NOT ORIGINAL MARINE BODY
These are the Rochester OEM #'s for 305/5.0 and
4.3 Merc / Crusader / Bombardier

Our carburetor will interchange & apply to the following OEM carburetor models:
7028280, 7028282, 7040284, 17057282, 17057283, 17059291, 17059292, 17080564, 17080565

Applications:
- 228 AND 230/ 5.0LX ALSO TR & MIE 1977 TO 1995
 Part Numbers:
 1347-6427, 1347-9661A3 , 1347-6438A1 , 1347-7361A1 ,
 1347-8296A4 , 1347-8296A4 , 1347-7364A1 ,
 1347-8290A1
FOR QUESTIONS OR TO PLACE ORDER BY PHONE CALL 714-928-6003