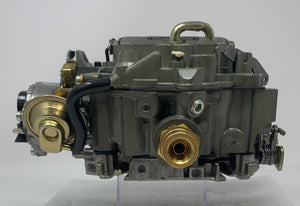 ROCHESTER QUADRAJET MARINE VOLVO PENTA
 THIS IS A DIRECT REPLACEMENT FOR THE VOLVO PENTA 5.0 AND 5.7 WITH ELECTRIC CHOKE
THESE ARE REAL ROCHESTERS WE DONT USE CHINEESE CLONES 
YOU GET 50.00 CORE CREDIT WHEN YOU SEND THE OLD ONE BACK
AQ225B, 225C, 225D, 225E, 225F, 255A, 255B, 260A, 260AV, 260B, 260C, 290A, BB225, BB225AV, BB225B, BB225C, BB225AV, BB225B, C501A, 501/MS5A, 570/MS4A

OEM carburetor model:
17059283,17059296,17059298


 

Volvo's carburetor model:

 

841047-4, 841313-0
THIS IS A FOUR BARREL ROCHESTER E4ME  MARINE VERSION WITH ELECTRIC  CHOKE MADE FOR THE VOLVO PENTA 5.7/350 CI MOTOR
WE HAVE INSTALLED NEW INTERNAL PARTS SUCH AS:
NEEDLE AND SEAT,ACEL PUMP,FLOAT,SPRINGS,GASKETS, AND ALSO THE MIDDLE BODY CASTING IS EPOXIED TO AVOID FUEL LEAK DOWN TO THE MANIFOLD,THE THROTTLE SHAFT BUSHINGS HAVE BEEN REPLACE WITH BRASS ONE'S AND THE BASE IS RESURFACED.LINKAGES AND HARDWARE ARE ZINC PLATED AND THE BODY IS PAINTED BLACK TO AVOID RUST.
EVERY CARBURETOR IS BENCH TESTED AND ADJUSTED BEFORE BEING SHIPPED.
OUR STANDARD OF MANUFACTURING CARBURETORS IS OF THE HIGHEST QUALITY AND  VALUE FOR YOUR MONEY ! DONT SETTLE FOR LESS, IF YOU NEED A DIFFERENT MODEL OR TWO CARBS FOR YOUR BOAT EMAIL US AND WE WILL HELP YOU OUT.
WE HAVE CARBURETORS FOR ALL MAKES AND ENGINE SIZES,PLEASE EMAIL OR CALL US IF YOU HAVE ANY QUESTIONS.
714-928-6003