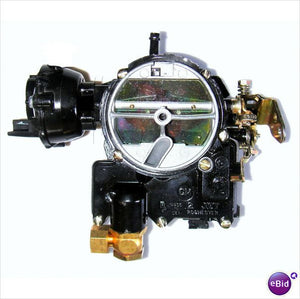 MERCARB REPLACEMENT BY ROCHESTER 4.3
 BUY DIRECT AND SAVE !!!
THIS IS A TWO BARREL ROCHESTER 2GC CARBURETOR MADE TO REPLACE THE HARD TO FIND AND VERY EXPENSIVE TWO BARREL MERCARB !
IF YOU SEE IN THE PICTURE THE ONLY DIFFERENCE IS THE FUEL INLET IS FACING WHERE THE MIXTURE SCREW IS BUT WE HAVE PLACED A BRASS INLET
THIS CARBURETOR IS MADE INTERNALY TO REPLACE THE MERC (  4.3 ) 6 CYLINDER MOTOR, IF YOU HAVE A DIFFERENT ENGINE SIZE OR APPLICATION PLEASE EMAIL OR CALL US.
THE PRICE INCLUDES A 50.00 REFUNDABLE CORE DEPOSIT,PLEASE EMAIL US FOR DETAILS
714-928-6003 FOR PHONE ORDERS OR QUESTIONS