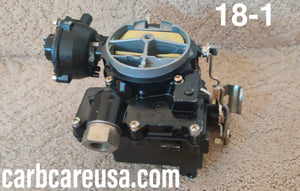 Mercarb 5.7 with no tube in the bottom
Buy direct and save !!
the price includes a 80.00 refundable core deposit.
we also have this item in Rochester version 
This is an original 2 barrel mercarb that's made to fit all 5.7/ 350 ci motors and is the model that only has electric choke and no tks system 
fits the following 
200/5.0 v8 1987-95 1389-9670A2/3310-807312A1
5.7 1996-1999 3310-807312A1
5.7SKI 1996-1999 3310-807312A1 
All our items go through a process of complete remanufacture! We check the body for any fractures or warped parts, we rebush the throttle shaft and install new internal parts and we paint the body after to protect it from the elements.The final job we do is bench test and adjust to factory specs and then put in the box with it's base gasket, if you need a different engine size or with a pipe on the base call Us.
714-928-6003 or email Us 
carbcareusa@hotmail.com