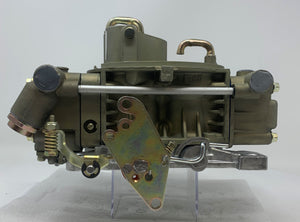 HOLLEY MARINE 4 BARREL 4160 ELEC CHOKE 351
 BUY DIRECT AND SAVE !!
THIS IS  AN OBSOLETE HOLLEY CARBURETOR THAT WE STILL MAKE !!
THE PRICE INCLUDES A 80.00 REFUNDABLE CORE DEPOSIT.

(PLEASE VISIT STORE POLICY FOR MORE INFO )
THIS IS A REMANUFACTURED 4 BARREL HOLLEY MARINE 4160 EVENBORE CARBURETOR MADE FOR PCM / OMC AND ALL FORD ENGINE 351 WE HAVE INSTALLED ALL NEW INTERNAL PARTS SUCH AS: NEEDLE AND SEAT, FLOATS, GASKETS AND ACEL PUMP,THROTTLE SHAFTS BUSHING ARE REPAIRED TO PREVENT VACUUM LEAKS,EVERY CARBURETOR COMES WITH INTERNAL FUEL FILTER,ELEC CHOKE AND BASE GASKET.BEFOR EVERY CARBURETOR IS BOXED UP FOR DELIVERY WE BENCH TEST AND ADJUST THEM FOR ACCURECY.
IF YOU DONT SEE THE MODEL OR ENGINE SIZE YOU NEED PLEASE EMAIL OR CALL US !!
1-714-928-6003