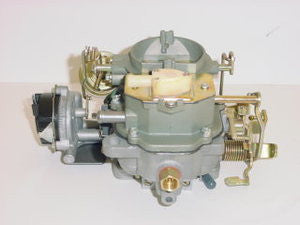 CARTER BBD WITH OUT FEED BACK
 BUY DIRECT AND SAVE THIS IS THE ORIGINAL NONE FEEDBACK WITH ONLY ELECTRIC CHOKE FOR THE JEEP 4.2
THIS CARBURETOR WAS INSTALLED ON JEEPS WITH A 6CYL 4.2 FROM 
1981 TO 1984 AND DID NOT REQUIRE FEEDBACK SYSTEM.
IF YOUR JEEP HAS THE CARTER BBD WITH FEEDBACK AND YOUR IN STATE THAT DOES NOT HAVE AN EMISIONS LAW YOU CAN USE THIS CARB AS A DIRECT REPLACEMENT !!! IT BOLTS UP AND LINKAGE IS THE SAME !!!
CALL US 714-928-6003