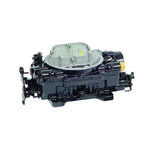 CARTER 4 BARREL REMOTE CHOKE 5.7
this is the real carter/weber marine!!

THIS IS THE FOUR BARREL CARTER/WEBER REMOTE CHOKE CARBURETOR MADE FOR MERCRUISER´S 350/5.7 MARINE APPLICATION
EVERY CAREBURETOR IS BENCH TESTED AND ADJUSTED BEFORE SHIPPING OUT, IF YOU DONT SEE THE CARB YOU NEED PLEASE EMAIL OR CALL US !!
note, on this carburetor their is a 200.00 refundable core deposit

714-928-6003