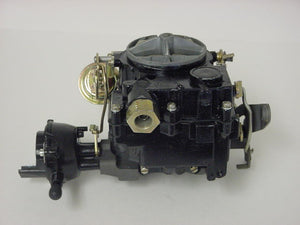 2 barrel Rochester electric choke at the base OMC 5.0
No one has this carburetor!!
This is the Rochester 2 barrel electric  choke at the base for OMC 5.0 and is made to replace the original manifold choke one.the cost includes a 50.00 refundable core deposit,please ask Us how that works 
ita made to fit the following applications 
5.0 1975/1985 oem # 7025187 / 17059060
5.9 1977/ 1978 oem # 17057138 
These are remanufactured carburetors and NOT new cloned Chinese items.
We go through every detail of the process of being sure throttle bushings are replaced and all inside partes are changed,every carburetor is bench tested and adjusted to factory specs.
if you don't find the oem you need or have different engine size feel free to email or call Us
714-928-6003 
carbcareusa@hotmail.com
info@carbfactory.com